Manage your BBM Channels via Hootsuite, today!
First, the complimentary press release right here from
and
A snippet, more of an endorsement that perfectly describes this partnership, as in the words of a Barcelona FC's Board Member who is also the Technology Area Director
"Both social media and messaging channels have been a powerful tool for FC Barcelona to engage with our large active global fan base. By bringing together Hootsuite and BBM Channels, FC Barcelona team now has a way to bring their Channels content into their social media workflow to expand the reach of brand and user-generated content. The ability to be more social as an organization is integral for our success, and we expect nothing less." —Dídac Lee, FC Barcelona Board Member, Technology Area Director
This has been an impressive stride for BlackBerry's BBM division. We at UTB certainly hope to see that more of such collaboration between BlackBerry's BBM division with other platforms.
Just to pour some thoughts into this;
what we know is that since it can be daunting for a really big organization with huge amount of followers like FC Barcelona to manage everything from a Single device (god forbid how would anyone even manage a single BBM Channel of that magnitude via a Fapple Applauncher or Android) but now there's an option to do it via Hootsuite. There are few implications that I would think that's being established here:
1) BBM Channels has more options of managing itself, and be able to put more people behind the administrator (instead of a singular person administrator) . This means administrators won't get swamped down, and there should be more people that can actually use Channels as a proper channel to real life, on-time, round-the-clock feedback since the other person behind the account would actually be a human being and less likely to post "cookie cutter" answers.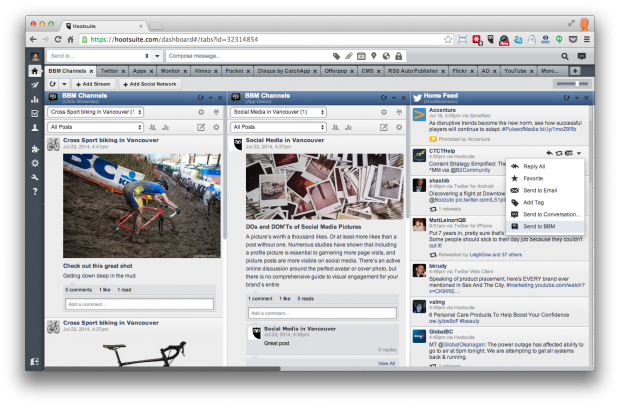 2) BBM Channels have just evolved into an even better mass-scale communication channel, since it has verification system (so that big name channels now also have a mark to indicate that they're authentic as they say they are, etc) and now if a particular content makes it big, or viral it can share, or also be part of that.
3) At the present I see BlackBerry Channel is listed as a "FREE" plugin, but I'm not sure if BlackBerry and Hootsuite will monetize this, as how Hootsuite had charged for other plugins for other sites / content management. Instead of mulling too much with insufficient data, I believe that at this point, since it has developed to such a point, the possibility is yes, and the proper question is "if yes, when and how?"
4) This actually marks BlackBerry's BBM division entering into a new niche that I believe the company hasn't really fully explored, but they have dipped their toes with Hootsuite, I'm going to pay more attention to this. I see it as a win-win-win for the Company, the customers and the service providers (in the case above, Barcelona FC and their fans) . I suspect that there are room for which Hootsuite competitors will also try to capitalize on this once the idea of BBM Channels grow (the onus is always on the content creator and provider) As for BlackBerry they just entered another market and they're now the new kids on the block. I expect some serious challenge by BlackBerry to promote its BBM Channels platform for various purposes.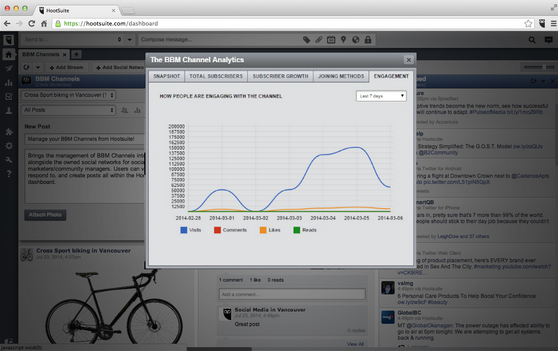 If you have thoughts, do speak them here, and also post them in the forums!